1710 N. McDonald St. McKinney, TX 75071

*Weekly Statistics
Intakes: 2 Graduates: 3
Exits: 2 Referred due to lack of space: 67 – 28 singles, 14 families (14 adults, 25 children)
*Intakes refers to the people who have recently moved into the Inn.
*Graduates are people who have completed our program and found a
full-time job and a place of their own to live.
*Exits are those who have been asked to leave due to rule violations.
*Referrals are usually to other agencies.
We are so honored that the following businesses will be supporting The Samaritan Inn at their holiday parties this year:

December1 – Collin County Black Chamber Gala, The Colony
4 – Home Builders of Greater Dallas, Richardson
6 – Allegiance Title, McKinney
7 – Collin County Assoc. of Realtors, Plano

Thank you, thank you, thank you, thank you!!!!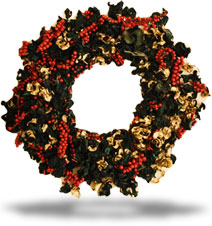 A Few Thank You's:

The Collin County Realtors Association had a live auction at their last meeting and sold a dinner for ten cooked by the Plano Fire Department to the highest bidder. The proceeds from this "fire sale" went to the Inn. Thank you all so much for remembering us!

A huge thanks to the donor who brought us 200 sheets over the weekend!!!!!!!

Thanks to the parishioners from St. Elizabeth Seton's in Plano who decorated the shelter from top to bottom for Christmas. The children are absolutely delighted!
The staff of The Samaritan Inn got a lovely letter last week from a former resident. It was a long and thankful letter that made us all proud to be a part of this incredible mission. This single mother of three wrote, "As this Thanksgiving approaches, I remember last Thanksgiving when my children and I lived at the Inn. A complete dinner was prepared and served with love…. The staff makes you know you are not alone…. They treat you like a person, with respect. This year I am working and in my own home, but I am still thankful for last Thanksgiving."
You want to hear some incredible news? Two weeks ago we started our new newsletter feature, Career Corner. Every week we profile a Samaritan Inn resident who is looking for work in hopes of connecting them with someone in the community. Well, right out of the shoot one of our wonderful supporters called and our resident got the job with a great salary and benefits! There was one problem; the job was located in downtown Dallas and our resident needed some major car repairs. Once again, our Good Samaritan in the community came through and offered to let him ride with him until the car is ready. When we thanked him, he said, "No problem, now I can ride in the HOV lane." Never forget, people are good.
Paul recently moved back to Dallas and is looking for employment while living at the Inn. He has 15 years of accounting experience and is well versed in all of the relevant computer technologies including Microsoft Office, as well as Peach Tree and Financial Management Systems. If you know of someone who might have a position that fits Paul's qualifications, please email Denise atdcapurso@thesamaritaninn.org.
Story Of The Week
Dee is 33 years old and has five children from ages five weeks to 15 years old. She was referred to The Samaritan Inn after leaving her husband who had physically assaulted the two oldest children. CPS (Children's Protective Services) made the referral to the Inn and gave Dee strict requirements that she would need to meet in order to keep her children.
Dee has complied with all of these requirements; parenting classes, family counseling, and domestic violence counseling, as well as the mandatory requirements of The Samaritan Inn. Dee also holds a full-time job as an accounts payable clerk. She has been employed at her company for three years and hopes to be promoted soon. As if all of this and five children were not enough, the three youngest children have had a variety of illnesses and have spent a good deal of time at Children's Hospital. Dee manages all of the components of her life with determination and a positive attitude and is committed to being in her own home, with her children, early in the new year.

Gratefully,
Lynne Sipiora
The Samaritan Inn
"Collin County's largest homeless program"
972.632.1290, ext. 229
*** CollinCountyMagazine.com TWITTER: @CollinHeadlines and @CollinCounty365 YOUTUBE: CollinCounty365 channel. Sign up for our updates on Facebook, Tumblr and Google Plus. CLASSIFIEDS: $50 for three months. E-MAIL: collincountyheadlines@gmail.com. Sign up for our free weekly newsletter and our monthly upcoming events email.! Our Readers – Collin County Demographics: http://www.co.collin.tx.us/business/numbers.jsp Shop Amazon's New Kindle Fire
Amazon.com Widgets